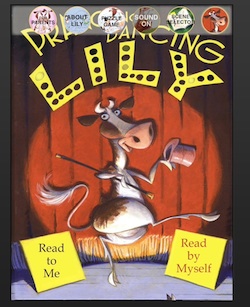 Award-winning book, Prancing, Dancing Lily, can now be found world-wide as a multi-platform app. The heartwarming story about an Ayrshire cow determined to hoof and groove around the globe, was written by Marsha Diane Arnold and illustrated by John Manders. App developers and author have teamed up with interactive media publisher, Fat Red Couch.
"The Fat Red Couch team provided years of experience in storytelling and are a delight to work with," says Ms. Arnold. "We persevered in our search for the perfect app just as Lily persevered in her search for the perfect dance, and just like Lily, we had a great time on the journey. Lily's story will delight anyone who's ever felt different from the herd. Children can interact with Lily as they read or listen to the story and enjoy playing puzzles."
Download Prancing, Dancing Lily on iTunes, Android, and Amazon for $1.99. For a preview of the app, visit Vimeo. To learn more about Lily and author Marsha Diane Arnold, please visit www.prancingdancinglily.com. To learn more about Fat Red Couch, a member of the collaborative group of family-friendly app developers Moms With Apps, visit www.fatredcouch.com.