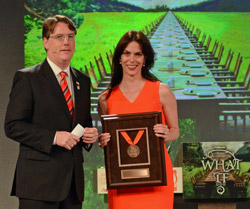 Julie Borlaug Larson, granddaughter to Dr. Norman Borlaug, was on stage this morning to accept a posthumous Alltech Medal of Excellence award for the "Father of the Green Revolution." The award was presented by Aidan Connolly, Alltech.

"Through his adaptation of new wheat technologies and improved crop management practices, Dr. Borlaug saved more than a billion people worldwide from starvation," said Dr. Pearse Lyons, president and founder of Alltech. "Borlaug taught the world to feed itself, mass famines were averted and countries such as Mexico and India became self-sufficient in producing grains. His work continues to inspire us today as we strive to find solutions to feeding nine billion people by 2050."

This afternoon Julie participated in the first part of a session titled, "Africa: Land of Opportunity." I visited with her at the break and learned some interesting things about what's going on in Africa. BTW. Julie and I are looking for a sponsor of our attendance at the International Food and Agribusiness Management Association (IFAMA) Cape Town Forum in June. Let us know if you're interested. We'll make sure we bring our message from the U.S. and also bring back what we learn.
Interview with Julie Borlaug Larson