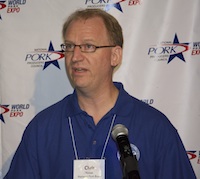 Chris Novak, CEO of the National Pork Board, announced plans for a new common industry audit platform for pork producers, packers and processors. Using the existing Pork Quality Assurance Plus (PQA Plus) program as the foundation, the year-long audit team is nearing the final stages of completion and the initial common audit framework. The program was unveiled during World Pork Expo 2014.
The goal of the common audit program is to provide consumers greater assurance of the care taken by farmers and pork producers to improve animal care and food safety. It is also a mechanism to reduce the need for multiple audits throughout the food chain.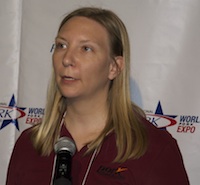 Dating back to 2011, the Pork Checkoff's Board of Directors met with European counterparts who complained about audit programs in their countries that were duplicate, costly and inefficient. This new standard procedure will:
Meet individual company and customer needs;
Focus on outcome-based criteria that measure animal welfare;
Provide clarity to producers with regard to audit standards and expectations;
Minimize duplication and prevent over-sampling; and
Ensure greater integrity of the audit process through consistent application
The common audit program framework according Sherrie Webb, Pork Checkoff, will focus on animals themselves, facilities, caretakers and record and record keeping.
Chris Hodges, chairman of the Packer Processor Industry Council and senior vice president of fresh pork at Smith-Farmland noted, "As packers, we operate between our suppliers-the pork producers-and our customers-those who are selling pork to consumers. The eye of the public is on where their food comes from and how it is raised. Meeting the demands of our customers while still appreciating the challenges of our producers is tough. That's why this new common audit platform is needed now."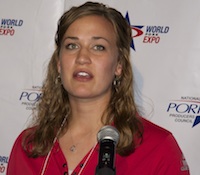 "This approach has never been more critical. As pork producers, we know that we must do more to reassure consumers about our commitment to improving animal care," said Emily Erickson, a member of the Industry Task Force and a pig farmer from Jackson, Minnesota. She noted at the same time the industry needs a clear and consistent approach that can ensure they are doing the right thing and this common framework delivers on that promise.
The Industry Task Force is meeting later this month to finalize the common audit framework and it will be rolled out Mid to late July 2014.
Check out the 2014 World Pork Expo photo album.