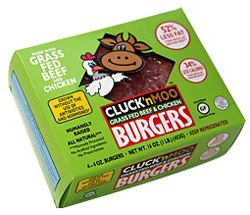 A new burger on the market is a marriage between beef and chicken, combining the best of both worlds.
The new product is called – what else? – Cluck N' Moo. "I experimented to see what happens when we combine chicken and beef, and I developed a process that we just applied for the patent on," said Cluck Incorporated president Steve Gold. "When the beef is cooked, and that loses moisture, the chicken picks up the moisture from the beef so you get a real juicy burger that tastes like an 80-20 burger with 52% less fat."
Cluck N' Moo also has 34% less calories than your basic beef burger and with beef prices as high as they are, the product is quite a bit less expensive. "We knew there would be a price difference because chicken is less expensive than beef," said Gold. "But the spike in beef gave it a selling point I never considered when we launched this product."
The product was launched in March 2014.