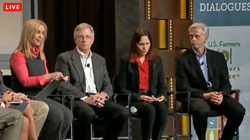 The first Food Dialogues event of 2015 in live right now. The focus is on "Animal Care and Consumers' Emerging Expectations." It is being held in Florida in conjunction with the International Dairy Foods Association meeting taking place there. The event is also sponsored by the U.S. Farmers & Ranchers Alliance.

The Food Dialogues panel of food industry and animal care experts will discuss the various tools and strategies that farmers, ranchers and veterinarians use to promote animal health and a safe food supply. These animal care techniques and practices – from housing to the use of antibiotics – are increasingly more important to food manufacturers and consumers as they're making sourcing and purchasing decisions. Join the discussion to learn if what is happening on farms and ranches across the nation is meeting the consumers' expectations.

The panel includes:
Moderator: Elisabeth Leamy, journalist, author and Dr. OZ consumer and investigative correspondent
Bruce Feinberg, global animal health and welfare officer, McDonald's
Robin R. Ganzert, Ph.D. , president and CEO of the American Humane Association
Jim Mulhern, president and CEO, National Milk Producers Federation
Dr. Marcia Endres, D.V.M., Ph.D., professor of dairy science, University of Minnesota
Mike Reidy , senior vice president of corporate affairs, Leprino Foods
Chuck Ahlem, dairy farmer, Hilmar Jerseys, Hilmar, California
The event live stream will be recorded so that you can watch it later.