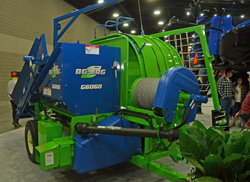 If you haven't heard of the Ag Bag, now is the time to learn. While at the National Farm Machinery Show, Chuck spoke with Stashia Bittner with Miller who owns Ag Bag, to learn more about the equipment and what they can offer farmers across the country.
"Ag Bag machines are used to bag silage. The concept started in 1970 in Germany. When the United States' market needed a faster bagger, Ag Bag Corporation was developed. Since then we have built 6 foot baggers, 7 foot baggers, 8, 9, 10, 11, 12, 13 and now we are up to 14 foot baggers."
Stashia said she believes New Holland can bring something they may not have been able to bring to the table and is excited to see what the future holds.
Learn more about Ag Bag products in Chuck's complete interview with Stashia here: Interview with Stashia Bittner, Ag Bag