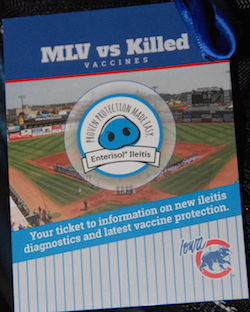 The industry's first commercially available quantitative polymerase chain reaction (PCR) test for Lawsonia (ileitis) has been developed by Boehringer Ingelheim Vetmedica, Inc. (BIVI) Health Management Center and will become available for testing July 1, 2015. The new test provides producers with bacterial concentration levels, unlike the similar qualitative PCR testing which simply detects for the presence of Lawsonia.
BIVI's announcement came during their media dinner during the 2015 World Pork Expo. Dr. Jessica Seate, technical manager for the enteric solutions portfolio at BIVI, spoke to the media in attendance about the results of quantitative PCR testing. "For ileitis, in particular, studies show a strong correlation between fecal bacterial load levels and clinical disease and impact on average daily gain and production. The quantitative PCR test for Lawsonia, along with efficacious vaccines such as Enterisol Ileitis, are part of the suite of tools we offer veterinarians and producers to better monitor disease status of their pigs and improve overall health and productivity of their herds."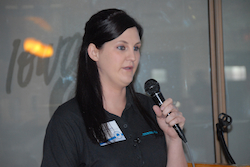 Enterisol Ileitis, proven protection made easy, has five building blocks to protect herds globally BIVI wants you to remember. 1) oral administration is easy for everyone, 2) it builds immunity at the site of potential infection, 3) modified-live vaccines most closely mimc natural infection, 4) over 500 million doses have been sold worldwide and 5) it is tested over and over and over again.
Listen to my complete interview with Jessica to learn more about testing program at BIVI here: Interview with Dr. Jessica Seate, BIVI
Find photos from the event here: 2015 World Pork Expo Photo Album