"If we don't tell our farmer story then someone else will," said Erin Brennemen, Iowa pork producer during the panel discussion "Our Barn Door is Open," that took place during the 2015 World Pork Expo (#WPX15). The #RealPigFarming panel was hosted by the National Pork Board (NPB) and moderated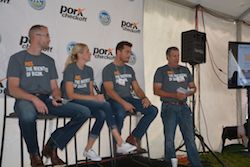 by outgoing vice president Brad Greenway, a South Dakota pork producer. Other panelists include Thomas Titus, an Illinois pork producer, and Iowa farmer and The Bachelor, Chris Soules, who was also a recent Dancing with the Stars alum.
The lively discussion focused on the panelists' experiences in speaking with consumers via social media about what really happens on their farm and how best to tell your story. These Agvocates all agreed that they must share their experiences and open "their barn doors" or others will inaccurately tell their story. They also agreed that for the most part, consumers who reach out to them really want to better understand what happens on the farm and are appreciative of the honest answers they give. The panelists and Greenway all invite consumers to visit their farms so if you're looking to take a farmtour, farmstay or farmcation this summer then be sure to reach out to them.
You can follow the discussion on Twitter using #RealPigFarming and engage with the panelists on Twitter as well: Thomas Titus (@1thomas_titus), Erin Brenneman (@sowmamma) Chris Soules (@souleschris) and Brad Greenway (@GreenwayPork).
Watch Our Barn Door is Open.
Find photos from the event here: 2015 World Pork Expo Photo Album