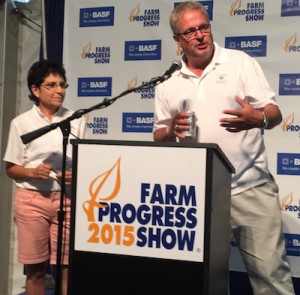 During the Farm Progress Show, U.S. Farmers and Ranchers Alliance (USFRA) announced the results of a new survey on consumer views on farming and ranching sustainability.
"For USFRA, no question about agriculture is off the table," said USFRA chair Nancy Kavazanjian during the press conference. "We want to make sure farmers and ranchers are involved in the most important conversations about food. We know that impact on the environment is a frequent conversation when it comes to food production. While farmers and ranchers are stewards of the land, we have not always been vocal voices in the environmental conversation, and we want that to change."
USFRA is using the results as a foundation to better answer consumer questions about sustainability and agriculture. The survey found that 56% of all respondents agreed with the statement, "Farmers and ranchers use new technologies and innovations to protect the environment." While 47% of all respondents agreed with the statement, "The way that most of today's farming and ranching operations in the U.S. grow and raise food meets the standards of sustainability." However, when presented with the same statement, the survey revealed that women are less likely than men to agree that farming and ranching practices are sustainable – 37% of women versus 59% of men responding they are in agreement.
When discussing sustainability, respondents want to hear about future commitments to the environment versus stories about a farming operations' multi-generational history. Consumers are also interested in learning how farmers and ranchers are doing more with fewer resources and impact, while preserving the land for the next generation.
Learn more about this survey in this interview – Interview with Nancy Kavazanjian, USFRA Chair
Hear more in this press conference with USFRA CEO Randy Krotz and Nancy Kavazanjian- USFRA Press Conference
View and download photos from the press conference in the 2015 Farm Progress Photo Album.
Download the press release here.