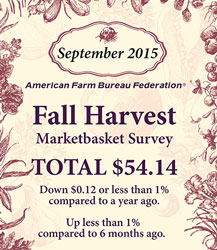 The American Farm Bureau has once again compiled national averages for food prices in their Fall Harvest Marketbasket Survey.  The survey shows the cost of whole milk, cheddar cheese, bacon and apples has decreased from last year, causing the overall price of a meal to be down $.12, or 1 percent.  Ten of the items surveyed decreased in price, six increased.
An increase in milk and pork production is the main contributor to the price drop.
"Energy prices, which affect everything in the marketbasket, have been quite a bit lower compared to a year ago. Processing, packaging, transportation and retail operations are all fairly energy-intensive," said John Anderson, AFBF's deputy chief economist. Lower energy prices account for much of the modest decrease in the marketbasket.
"As expected we saw higher egg prices because we lost so much production earlier this year due to the avian influenza situation in Iowa, Minnesota and some other Midwestern states," Anderson said.
The year-to-year direction of the marketbasket survey tracks closely with the federal government's Consumer Price Index report for food at home. As retail grocery prices have increased gradually over time, the share of the average food dollar that America's farm and ranch families receive has dropped.
The USDA says Americans spend just under 10 percent of their disposable annual income on food, the lowest in the world. A total of 69 shoppers in 24 states participated in this latest survey.