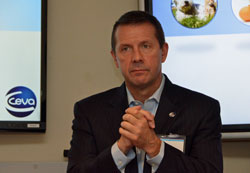 Ceva Animal Health is set on becoming a major player in the swine industry within the next five years. The global company was just created in 2000 in France, and the North American operations started in only 2005, but already Ceva has experienced a five fold growth increase.
Craig Wallace, Ceva CEO and North American Zone Director, says growth in his area – which also includes Australia and New Zealand – has been tremendous in the past decade. "We started in 2005 as we acquired a company called Biomune, a poultry company," he said during a swine media event last week at Ceva's North American headquarters in Lenexa, Kansas. "There have been multiple acquisitions since that point that have put us into multiple segments, primarily focused on poultry, swine and companion animals."
Ceva is launching a major expansion into the swine health business. "Globally, of strategic interest and import, is moving into the poultry and swine business because of the ability for us to impact the world's food sources and help producers deliver high quality, low cost proteins," said Wallace.
The company has already developed a healthy market share of the poultry health business, with the expectation of being number one in vaccines by the end of next year. "Our plan moving into the swine business is to have the same sort of success," Wallace added.
Learn more about Ceva in this interview: Interview with Craig Wallace, Ceva Animal Health