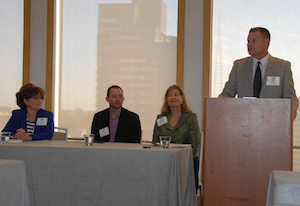 The Livestock Publications Council's Vision event took place in Kansas City, MO where they brought thought leaders together for a panel discussion on agriculture. Panelists included Ryan Goodman, ag advocate, Karen Hanson, registered dietician for Hy-Vee and Margaret Zeigler, executive director of Global Harvest Initiative.
The panel explored the importance of the safety of our food supply and looked at critical social issues, the economics of agriculture and marketing.
Margaret Zeigler said, "We don't think that producing more necessary means you have to have a negative impact on the environment. We believe that productivity and agriculture is foundational to not only providing more food, feed, fiber and fuel, but to being more sustainable."
Listen to my complete interview with Margaret to learn more about Global Harvest Initiative's efforts to spread the message of food security and global food policies. Interview with Margaret Zeigler, Global Harvest Initiative
Ryan Goodman has built quite the following through social media and has used that to talk agriculture with any and all who will listen. The door to social media is open, but it is challenging for some to step through that door and dive into sharing our ag story. "I think it is in the best interest for our overall industry to be involved in these conversations and convey the point that it is on each and everyone of us to have a responsibility to that."
In the agriculture community, we are often very tied to the products we produce and the services we provide. So, when things get negative it is easy to want to fight back. Ryan reminds us about the importance of being proactive in our messaging verse reactive and defensive.
Listen to my complete interview with Ryan here: Interview with Ryan Goodman
Find a few photos from the event here: Livestock Publications Council's Vision Event Photo Album