Republican presidential candidates Sen. Ted Cruz and Donald Trump were both asked about immigration and farm labor by Wisconsin dairy farmers during CNN town hall events in that state this week.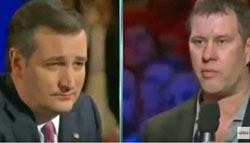 Jason Vorpahl, who operates a 2800 head dairy farm in Wisconsin, questioned Cruz about the issue. "We offer a competitive wage and offer full benefits to all our employees," said Vorpahl. "Most farms in the dairy industry cannot find American-born workers to milk the cows and take care of them. The only ones willing to do this hard work are Latino immigrants who, if we didn't have them for eight hours, there would be a crisis across the country in our industry. What is the short-term solution to keep our current labor force intact? And what is the long-term solution moving forward?"
Noting the need for an adequate labor force for agriculture, Cruz indicated the answer may be increasing mechanization and technology, citing the example of a pepper farmer in Arizona who "actually went and invented a new tool to help pick the peppers. And then he went down to the local community college and he ended up hiring Americans coming out of the community college."
Cruz stressed the need to employ more Americans and to stifle illegal immigration. "And in the agriculture world, I think the first option should be trying to find American workers. Now that may mean wages come up. It may mean that we have to use more tools," he said. "And beyond that, our legal immigration system, if there are needs in the labor force and American workers not available to do it, that's where legal immigration should come in….It should be through the legal system targeted in a way that protects American workers."
Listen to Cruz's response to the question here: Sen. Ted Cruz addresses farm labor question
>Wisconsin dairy farmer John Pagel asked Trump if he can "develop a policy that will give us that, give us the people that we have here to stay here and do the jobs and create a policy that can bring people in to fill the jobs?"
Trump noted that dairy farmers are "in the same position as the California grape growers because they need people to come in" and he stressed the word "legally."
"If you have an industry like California grapes, like perhaps what you're talking about in Wisconsin, we're going to let people come in, but they're going to come in legally," said Trump. "They're going to come in through a visa program and they're going to come in legally. It's going to work out beautifully, you will not be affected. We don't want to affect businesses. We want to grow businesses."
Trump added that another that trade was related to the problem of immigration. "We are going to straighten out our trade policy so that you're going to get a lot more business," he said.
Listen to Trump's answer here: Trump addresses farm labor question