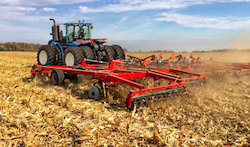 New Holland Agriculture will expand its wide offering with new implement product lines as a result of CNH Industrial's agreement to acquire the agricultural Grass and Soil business of Kongskilde Industries, part of the Danish Group Dansk Landbrugs Grovvareselskab.
This business develops, manufactures and sells solutions for agricultural applications in the Tillage and Hay & Forage segments under various brands, including Kongskilde, Överum and JF. Kongskilde will continue to operate through its current sales organization and its dealer network ensuring continuity in its customers' support.
This acquisition will create a major extension and enhancement of New Holland's offering with the addition of a key product portfolio. New Holland has a long history of leadership in the hay tools which dates back to 1940, when it made a major breakthrough in hay harvesting with the introduction of the first self-tying automatic pick-up baler to the American farmers. Throughout the years it has been motivated by its forward-thinking commitment to respond to its customers' requirements and has developed a complete product offering of hay equipment for cutting, tedding, raking, baling and stacking. Today New Holland is a Global leading brand and an industry-leader in North America in the haytools and agricultural equipment markets.
"The acquisition of the tillage and hay and forage activities of Kongskilde adds a key product range that will further broaden New Holland Agriculture's product offering within the agricultural machinery sector. In the meantime the Kongskilde dealer and importer network will remain the reference point for their customers. This agreement will provide growth opportunities and create a strong platform to develop the Kongskilde business and its brands and we will also gradually integrate their products in the New Holland portfolio", said Carlo Lambro, Brand President of New Holland Agriculture.
"We are proud to welcome the well-established products and brands of Kongskilde, Överum and JF into the CNH Industrial Group. It is our intention to build upon these proud heritages and significantly increase their market access as part of our worldwide distribution network," commented Richard Tobin, CEO of CNH Industrial.