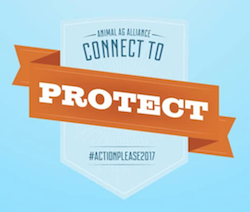 For three decades the Animal Agriculture Alliance has been working to unite the voices of all of animal ag to respond to anti-animal messaging. This year, on May 3-4, they'll be celebrating that 30 year milestone at the 2017 Stakeholders Summit in Kansas City, Missouri with the message "Connect to Protect, Action Please."
"The consumer loves meat, milk and eggs. They love ranchers; they love farmers, but they don't know a lot about how food is produced today and so they're very susceptible to the messaging from the activist groups that really are trying to put agriculture out of business. So the summit is really coming to learn about ways you can engage in a local level– within your community, within your churches, within your Little Leagues, your Rotary clubs and civic organizations in your hometown, but with some really innovative ideas," Kay Johnson Smith, President at CEO of Animal Ag Alliance told Jamie Johansen.
The event will also be a celebration of all that's been accomplished up till now. From fewer than 10 founding organizations (including the American Feed Industry Association and the American Farm Bureau Federation) they've grown to nearly 300; from the existence of the Internet to a presence on six social media platforms reaching half a million people each week.
Free registrations to the summit will be awarded to winners of two different competitions; a blog contest and a photo contest.
Listen here for more information in Jamie's full interview with Kay: Interview with Kay Johnson Smith, Animal Ag Alliance