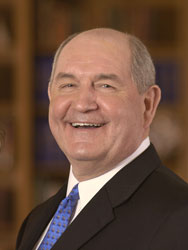 Sonny Perdue will get a step closer to the office of agriculture secretary next week.
The Senate agriculture committee will hold a hearing March 23 on the nomination of the former Georgia governor, who was the last cabinet member to be named by President Trump. Two other cabinet members, Robert Lighthizer for U.S. trade representative and Alexander Acosta for labor secretary, are also still awaiting confirmation two months after President Trump took office.
Meanwhile, President Trump's budget released this week calls for a 21 percent cut in USDA's budget – about $4.7 billion – in discretionary spending, including cuts in rural water projects.