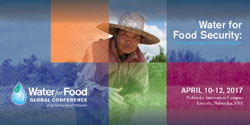 Researchers, practitioners, policymakers, farmers, faculty, students, thought leaders and industry experts will gather together next month to help find solutions to the world's pressing water and food security needs at the 2017 Water for Food Global Conference April 10-12 at Nebraska Innovation Campus in Lincoln, Nebraska. The flagship event of the Robert B. Daugherty Water for Food Global Institute at the University of Nebraska is themed "Water for Food Security: From Local Lessons to Global Impacts" and held in partnership with the USDA and the National Drought Mitigation Center.
"We are energized to bring together such a dynamic and diverse group of speakers and experts to the University of Nebraska," said Peter McCornick, executive director. "This year's conference will push us further toward finding real-world solutions – locally and globally – to the complex challenge of ensuring water and food security."
McCornick says he is especially excited about the topic of enhancing high productivity irrigated agriculture, highlighting challenges and opportunities from the Great Plains to sub-Saharan Africa. "We're excited about the partners coming in to participate in this session," he said. "We're well poised this year to make a contribution in this space."
The regular registration deadline for the conference is April 1 but McCornick says they are reaching their limit for registrations so he encourages anyone who is interested to register as soon as possible. More information, including the speaker list, agenda and registration details, are available on the conference website.
Listen to this interview with McCornick to learn more about the Water for Food Institute and Global Conference: Interview with Peter McCornick, Water For Food Institute