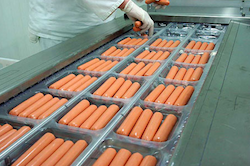 The National Hot Dog and Sausage Council (NHDSC) estimates that Americans will eat 7 billion hot dogs during this year's grilling season which runs from Memorial Day weekend through Labor Day. That's 818 hot dogs per second and more than a third of the hot dogs eaten per year.
New research commissioned by the NHDSC and conducted online by Harris Poll finds that 72 percent of Americans say that the true ingredients of a hot dog are a mystery to them despite popularity and that ingredients are listed on package.
The same research found on average Americans estimate that a standard hot dog contains 210 calories, while 41 percent of Americans say that they do not know. While calories vary by brand, USDA says the average standard beef hot dog contains just 154 calories.
The NHDSC has developed several resources to help address these misperceptions. A recently released guide to hot dog ingredients allows people to search for the ingredients listed on a hot dog package and learn more about what those ingredients are and why they are used. A new hot dog and sausage nutrition guide will debut this summer and here's a video showing the full process of how hot dogs are made.