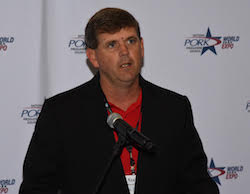 The Trump administration has certainly shaken things up, and nowhere is that more evident than in regards to environmental issues. Kraig Westerbeek, National Pork Producers Council (NPPC) Board & VP of Environment and Support Operations for Murphy Brown spoke about top environmental priorities at the recent World Pork Expo, outlining the steps recently taken toward regulatory reform.
The Waters of the U.S. was at the top of list, Westerbeek says. "From day one the NPPC has been a leader in the fight against the Obama administration's attempt to dramatically expand the jurisdiction of the EPA and giving activist groups a method to use against activities they oppose."
"Among the actions NPPC has taken to fight against the WOTUS rule have been: online mapping that was instrumental in exposing the extent of the EPA's regulatory overreach, we fought for and secured an opportunity for producers to comment on the EPA's proposed rule, we stopped the EPA's backdoor ag exemptions proposal which provided no protection for farmers but would have turned the USDA field staff into pseudo regulatory personnel, we drafted and submitted four sets of comments on the rule including one with more than 100 state, local, and national groups, and we challenged the rule in federal court."
NPPC is pleased with the new direction Pruitt appears to be heading. Currently the EPA is drafting a rule to replace WOTUS- a rule that would return to the previous status-quo and is being developed with the help of state governors to ensure boundaries between state and federal jurisdictions.
NPPC is also looking closely at the air emissions act, asking the court to withhold enforcement of an order that already requires producers to report to state and local officials and could completely swamp the coast guard's phone system with unnecessary odor emissions calls.
Listen to Westerbeek's presentation in full here to learn more: Kraig Westerbeek, NPPC
View and download photos from the event here: 2017 World Pork Expo Photo Album