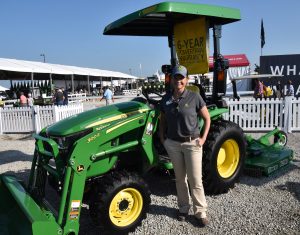 The John Deere 3E series tractors have received a makeover from head to toe or should we say tire. It's one of the most popular tractors that comes off the line in Augusta, GA. The redesign was on display for attendees at the recent Farm Progress Show and there we spoke with Product Marketing Manager, Michelle Bentley to give us the details.
"It's a really simple, easy to use machine a lot of folks really appreciate. What we are introducing is a new styling update with a few comfort and convenience features," Bentley said.
Beyond the cosmetic facelift, Bentley said the 3E tractors are now equipped with new attachability features such as telescoping draft links at the rear and an updated loader. The fuel tank was also relocated keeping convenience in mind.
"The ideal customer for the 3E series is the large property owner who uses the tractor to maintain acres and move materials around. The most popular attachment is the rotary cutter and the loader basically comes standard for customers. Another segment this tractor reaches is our equine customers due to its tight turning radius," Bentley said.
Listen to our complete chat with Michelle here: Interview with Michelle Bentley, John Deere
View John Deere photos here: John Deere at #FPS17 Photo Album
View all our photos from FPS here: 2017 Farm Progress Show Photo Album