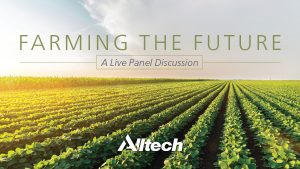 Alltech hosted a live video event on the future of agriculture and technology with a panel of agribusiness experts discussing and debating their thoughts on the future of the agricultural industry, new consumer demographics and demands, ag technology, big data, nutrigenomics and precision nutrition.
Continue to follow the discussion on Twitter with the hashtag #FarmingTheFuture. Great questions were posed, thought-provoking answers were given and all conversation made us start imagining the farm of the future.
Panelist Included:
– Aidan Connolly, chief innovation officer and vice president of corporate accounts at Alltech.
– Mary Shelman, former director of Harvard Business School's Agribusiness Program.
– Professor Michael Boehlje, distinguished professor in the Department of Agricultural Economics and the Center for Food and Agricultural Business at Purdue University.
– Dr. Karl Dawson, chief scientific officer at Alltech.