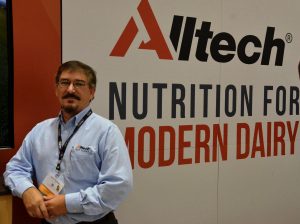 Alltech Crop Science is bringing biological and natural products into crops to make them better. Technical Advisor Brian Springer says the company has a broad portfolio that really sets it apart from similar companies that only offer one or two products.
When working with dairy customers like those at the 2017 World Dairy Expo, Springer often answers questions about how to help improve silage.
"And it's not only about tonnage. A lot of times it's about quality. If you can get more milk per ton of the same silage, that's important. So we really do focus on that," Springer said. "We have a lot of research done in Wisconsin specifically on those topics. We look at plant health. We look at the nutrition going into the plant and the nutrition coming back out."
Springer says Alltech has people collaborating from both the animal side and the plant health side to help identify problems and find solutions on the farm.
Listen to Jamie's interview with Brian Springer here: Interview with Brian Springer, Alltech Crop Science