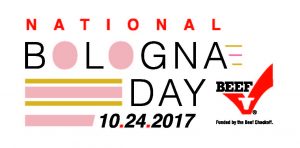 Today is National Bologna Day and the National Hot Dog and Sausage Council (NHDSC) has joined with the Beef Checkoff to celebrate by unveiling a new guide to bologna that tells you everything you could ever want to know about this lunch time staple that originated in Bologna, Italy as a variation of mortadella. It can also be spelled baloney, which is more American, and you can also test your knowledge with a bologna quiz and check out a range of bologna recipes.
"Bologna is an American classic that links us back to our childhoods," said NHDSC President Eric Mittenthal. "No matter how it is served, it is a guaranteed crowd pleaser."
Bologna is often served differently depending upon where people live. While most Americans have enjoyed traditional sliced bologna that is common on store shelves around the country, regional styles vary. In the Midwest, ring bolognas are often the preferred choice. These are smaller in diameter and sold as a semi-circle or a ring and may be sliced and eaten with crackers or split lengthwise and enjoyed in pastas and other dishes. Lebanon bologna is popular in Pennsylvania. It's a beef bologna that is heavily smoked, known for its tangy and smoky flavor. In Ohio, traditional bologna is often thick cut and fried before being enjoyed on a sandwich and in Memphis it is smoked and served with BBQ sauce. The Baltimore style hot dog features bologna wrapped around the hot dog for a meaty masterpiece.
So if people tell you that you're full of baloney today – say Thank You!