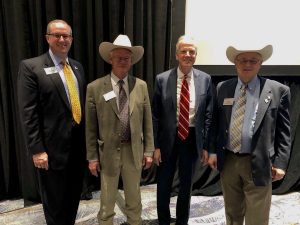 A number of topics are priorities for cattle producers in the coming year, beginning with the passage of a new Farm Bill.
"Everybody is trying to push completion of the Farm Bill before the current one expires, and we are no different," said Colin Woodall, senior vice president of government affairs with the National Cattlemen's Beef Association. "We want to make sure we get it done. We don't like the uncertainty of extensions. We want to make sure that we know what the programs are going to look like."
NCBA Policy Chair Joe Guild shared the group's highest concern within the Farm Bill discussion.
"Our highest priority is creation of a Foot and Mouth Disease vaccine bank," said Guild. "We are asking for $140 million a year to fund that bank and to make sure that it's viable and continues. It's a defensive tool. We don't want Foot and Mouth Disease to come back to this country. Right now the vaccine bank is inadequate for the potential defenses that we'd need to implement. So that's the highest priority in the Farm Bill."
Other significant items NCBA will be addressing in 2018 include immigration law, transportation concerns over electronic logging devices, the Endangered Species Act, and Fake Meat – protecting terms like "beef" with the introduction of more and more plant-based protein products onto the market. Trade remains a focus for the group, as well.
Listen to Jamie's interview with Colin Woodall here: Colin Woodall, NCBA
Listen to Jamie's interview with Joe Guild and Jerry Bohn here: Joe Guild and Jerry Bohn, NCBA