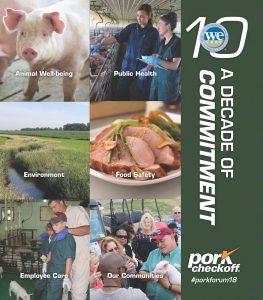 The 2018 National Pork Forum will take place February 28 – March 2, 2018 in Kansas City, Missouri. The event serves as the annual business meeting for the National Pork Board and the National Pork Producers Council (NPPC).
"The purpose of both organization's delegate sessions is to really look at the key issues. Producers have the opportunity to discuss those issues and determine the direction for the industry," said Cindy Cunningham, Assistant VP of Communications for National Pork Board.
NPPC will likely be discussing the 2018 farm bill and trade renegotiations. On the checkoff side, Cindy said they will be discussing new technologies impacting the industry, how the checkoff has changed the way it delivers information and pork exports.
"Each year about a third of the producers who are attending and representing their state are new to Pork Forum. Producer delegates are selected at the county level to attend their state Pork Congress. From there they are selected to attend the National Pork Forum as delegates," Cindy said.
She added the discussion which takes place between delegates is truly fascinating and their passion for the pork community shines.
Listen to our complete chat here to learn more about the upcoming event. Interview with Cindy Cunningham, National Pork Board