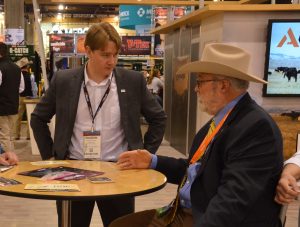 Alltech's EPNIX has moved past the proof of concept stage and on to large-scale field demonstrations on the efficacy of the product. We caught up with Dr. Vaughn Holder, Alltech's Ruminant Research Director, at the 2018 Cattle Industry Convention to get an update.
"We have multiple locations throughout North America, Canada and Mexico evaluating the technology on farms to see the benefits we can bring through EPNIX," Dr. Holder said.
EPNIX has been positioned to be used as an alternative to antimicrobial growth promoters and Dr. Holder even mentioned it's potential for replacing antibiotics.
Listen to our complete conversation here: Interview with Dr. Vaughn Holder, Alltech