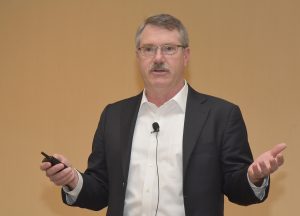 Aptimmune is looking to grow its presence in the swine vaccine market with the success of Barricade for porcine reproductive & respiratory syndrome (PRRS).
"It's kind of an exciting time because we launched the product over a year ago and we've got customers that are using the product, evaluating it in a number of trials," said Steve Berger, director of development for Aptimmune. "We're excited about this next phase. As the vaccine is taken up in the market, the demand is increasing and putting more pressure on the manufacturing operations, which are good problems to have. We're looking forward to the next growth phase of Aptimmune."
Berger said the company has just added an influenza vaccine to the portfolio and is working on a combination PRRS/flu product. Aptimmune is also working toward federal licensing, which would allow the sale of product formulations across the country instead of state by state.
2018 Aptimmune Scientific Symposium Photo Album
Listen to Chuck's interview with Steve here: Interview with Steve Berger, Aptimmune