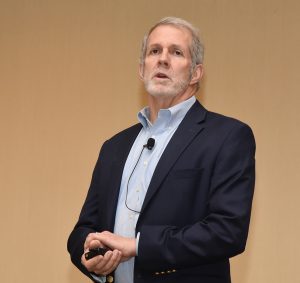 The 2018 Aptimmune Scientific Symposium focused on the success of the Barricade vaccine for porcine reproductive and respiratory syndrome (PRRS), which was introduced in 2017.
"PRRS is a daunting challenge and a difficult vaccine to not only develop but also manage in the production world," said Dr. Bob Nordgren, chairman of the board for Aptimmune. "For 20 years, we've come up with relatively few breakthroughs in the area of PRRS vaccination. And designing a vaccine rationally and how you want the vaccine to work in the piglet has been the target of Aptimmune and is the result of the process we've established today."
Nordgren said part of the challenge has been that the PRRS virus can sustain itself in the individual animal as well as in the environment when presented as a modified live virus. However, an inactive vaccine inserted as an oil emulsion into the muscle is also not right for this situation. Aptimmune's Barricade virus presents as a "live-like" virus to the tissue that is responsible for letting the PRRS virus in. The company shared results of field trials over the past year during this year's event.
Listen to Chuck's interview with Dr. Nordgren here: Interview with Dr. Bob Nordgren, Aptimmune