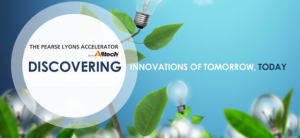 In its second year of existence, The Pearse Lyons Accelerator is adding eight new agriculture startups, featured at this year's ONE: The Alltech Ideas Conference. Four internal and four external companies make up this year's participants.
Israel-based eggXYt provides technology that allows hatcheries and chicken breeders to detect the gender of chicken embryos. The goal is to stop the unnecessary killing of male chicks not needed by the poultry industry each year. Co-Founder and CEO Yehuda Elram said the technology has both ethical and economic implications.
Interview with Yehuda Elram, eggXYt
Another external company in this year's accelerator is Vence, based in the United States. The virtual fencing idea enables management and monitoring of livestock via smartphones. CEO Frank Wooten said virtual fencing can be an answer when traditional fences present a challenge.
Interview with Frank Wooten, Vence
SmartBow CEO and Founder Wolfgang Auer said his Austria-based company saves livestock farmers money by helping with early detection of sickness in animals, thanks to the SMART eartag sensor. The sensor can detect early signs of sickness based on changes in behavior, appetite, social interactions. This happens up to five days before the animal shows clinical signs of being sick.
Interview with Wolfgang Auer, SmartBow
The final external company is farming three million insects in the heart of London, United Kingdom. Entocycle Chief Commercial Officer James Millar described the first environmentally controlled, fully automated system to produce industrial levels of Black Soldier Fly protein. These flies don't have a mouth, which means they are non-disease and non-pests. Millar said the life cycle from baby larvae to adult larvae is just six days. The long term goal is to use the protein for human consumption in staple foods like pasta and bread. But in the short term, the company is looking to provide protein to livestock like poultry and cattle.
Interview with James Millar, Entocycle
The Pearse Lyons Accelerator is a unique late-stage, agri-tech accelerator run by Alltech and Dogpatch Labs that aims to address a diverse set of challenges facing agriculture today. Backed by the late Irish entrepreneur Dr. Pearse Lyons, last year's startups collectively added $50 million in new qualified sales leads across 28 international markets by the end of the accelerator.