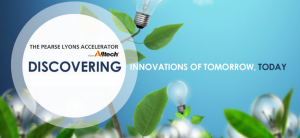 Eight startup companies have joined The Pearse Lyons Accelerator, including four that are internal to Alltech.
Rebecca Noble works in Alltech's business development for crop science division. She describes Adentro as a crop pretection brand of the future, using new science and new research. The name of the company translates to "inside" or "within." Noble and her colleagues are looking inside the plant to make it a better version of itself, using technology that naturally activates bio-immunity in a plant by switching on its defense genes. It's a different approach than the conventional external plant protection.
Rebecca Noble, Adentro – an Alltech company
Alltech's North American Brand Manager Brian Lawless is working on a startup called PenPoint, which is tackling Bovine Respiratory Disease (BRD). Lawless said BRD represents over 70 percent of animal deaths in feed yards. The company has developed a wearable activity tracker for cows to monitor eating and drinking habits as well as other movement. Lawless said providing producers with more information about the health of their animals helps them make better decisions about animal nutrition.
Brian Lawless, PenPoint – an Alltech company
Focusing on human nutrition, Alltech's truly brand is taking the guesswork out of supplements. Alltech Registered Dietitian/Nutritionist Nikki Putnam works on the truly brand, which provides online consultation to help consumers identify dietary and supplement needs. The folks at truly then personalize packs of supplements and provide those to the consumer through a monthly subscription service.
Nikki Putnam, truly – an Alltech company
Canada-based Smart Dairy is helping dairy farmers to improve efficiencies on the farm. Alltech's Stuart McGregor explained the program's goal is a 20 percent improvement in efficiency based on looking at factors like farm management, labor, herd health, and nutrition management. The program is designed to deploy Alltech's nutrition and ag-tech breakthroughs to farms via nutritionists.
Stuart McGregor, Smart Dairy – an Alltech company
A clear route to market remains a challenge within the industry, and the Alltech program provides startups with accelerated access to the global market, with a comprehensive package of support to help them navigate the challenge of scaling their operations to service large corporate customers. The program is run in conjunction with Dogpatch Labs, a leading startup organization based in Dublin, Ireland, and culminated at ONE: The Alltech Ideas Conference, where the startups pitched to leading agribusiness leaders, high-profile investors and the press.