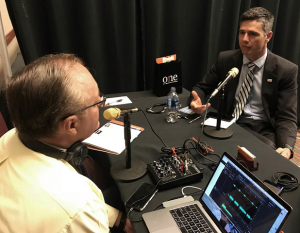 KEENAN CEO Robert Walker explored the future of technology and data as it relates to agriculture and the food chain at ONE 18: The Alltech Ideas Conference.
"Ag tech is shrinking the food chain," said Walker. "It's making communication up and down the food chain a lot better, quicker, and ultimately that is going to be to the benefit of every member of that food chain, and especially to the consumer at the very end."
While KEENAN mixer wagons already feature technologies that help farmers to work with nutritionists as they ensure they are feeding the correct rations for optimum performance from their cattle, Walker said there are more capabilities to come. He said data collection right now is focused at the farm level, and used primarily by the farmer. But Walker believes stakeholders up and down the food chain from feed mills to processors to retailers and even consumers could benefit from data collection and analysis that is already taking place on many farms. It appears digital technologies like blockchain might even further shorten the food chain.
Walker said farmers are passionate about what they do and will collaborate if there is benefit to doing so. He said data sharing needs to happen only with the farmer's permission, but also pointed out that others might share the in the costs of data collection. He said Alltech companies want to move from a descriptive approach to a predictive approach when it comes to collecting data as they work to better meet the needs of their customers.
Listen to Chuck's interview with Robert Walker here: Interview with Robert Walker, KEENAN