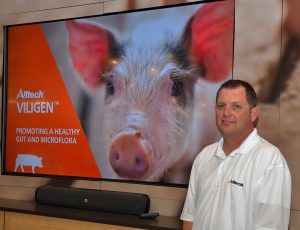 Alltech launched its latest technology for swine gut health at the recent ONE: The Alltech Ideas Conference and producers got to learn more about Viligen

at World Pork Expo this week.
Viligen

focuses on enhancing gut form and function while optimizing the immune system to maintain health status. For producers with weaned pigs, Viligen promotes gut health by directly targeting the gut mucosa. When the technology is added to the diet of piglets, it prepares the immature gut for efficient nutrient absorption and rapid growth, and it encourages feed intake by providing fatty acids, prebiotic components and readily available mineral forms.
"So far, feedback from Viligen use on U.S. pig farms has been very positive," said Russell Gilliam, Alltech U.S. swine business leader. "At Alltech, we understand that pig producers with weaned pigs are looking for technologies and solutions that lower production costs without compromising on performance."
Read more about Viligen from Alltech and learn more in this interview with Gilliam from WPX: Interview with Russell Gilliam, Alltech, on Viligen
2018 World Pork Expo photo album
Coverage of World Pork Expo is sponsored by