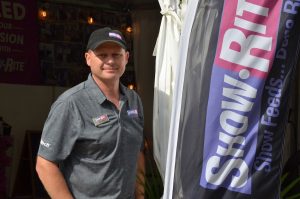 Show-Rite®, which is part of Hubbard Feeds family, provides nutrition programs formulated specifically for breeders and exhibitors who want their show animals to perform their very best.
Ryan Sites was at World Pork Expo last week as part of the technical support team for Show-Rite and had a chance to talk to many of those who were participating in the Junior Nationals. "This is a great avenue for us to explain a lot of the new products we have coming out," said Sites. "We've got a couple new additive products coming out that look real promising from the trials we've done."
Sites says Show-Rite® Show Feeds is dedicated to both providing great nutritional products for show animals and offering expert knowledge for their customers.
Learn more in this interview: Interview with Ryan Sites, Show-Rite