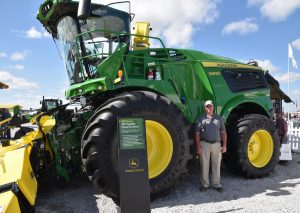 John Deere showcased the all-new 9000 Series Self-Propelled Forage Harvesters (SPFH) at last week's Farm Progress Show, drawing a lot of interest from attendees.
The four new models, which range from 616 hp to 957 hp, are able to provide up to 400 tons of throughput per hour, along with optimum corn silage processing independent of the length of cut, according to Shaun Fritchey, senior marketing rep, forage harvesters. "Compared to its predecessor, the 9000 Series is 10 percent more productive per horsepower and offers a 10 percent improvement in kernel processing."
Fritchey says the improved performance and capabilities of the 9000 Series enable producers and custom harvesters to obtain the highest possible return on investment under narrow harvesting windows where high-capacity and high-quality feed are the goal.
Learn more in this press release and this interview from Farm Progress Show –FPS18 Deere interview with Shaun Fritchey