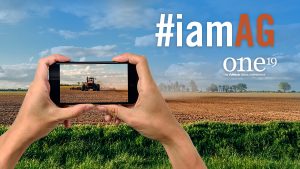 A picture is worth a thousand words — or a free trip to the ONE: The Alltech Ideas Conference (ONE19) held in Lexington, Kentucky, May 19–21, 2019.
Alltech's #iamAG online agvocacy photo contest invites American farmers, ranchers, producers and all agricultural workers to submit and share photos of their farms and ag lifestyle for the opportunity to win the trip. Photos must be submitted online by Nov. 30, 2018, at 9:00 a.m. EST. They will be judged by a panel, who will select the top photos as finalists, and those photos will be published on Alltech's Facebook page (Facebook.com/AlltechNaturally).
Voting will open to the public on Dec. 3 at 3:00 p.m. EST and will close on Dec. 17 at 12:00 p.m. EST. Use the hashtag #iamAG to find the photos or visit the Facebook album to vote.
Winners will receive free registration for themselves and a guest to ONE: The Alltech Ideas Conference (valued at $995) and $2,000 for travel expenses. To enter a photo and read the full contest details, including the rules and regulations, visit https://go.alltech.com/i-am-ag.
Registration is now open for ONE: The Alltech Ideas Conference, which draws 4,000 attendees from nearly 80 countries to network and discuss world-changing ideas.