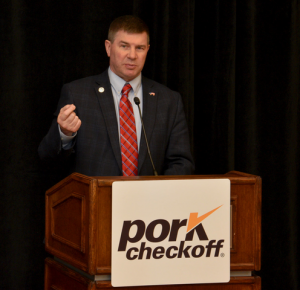 National Pork Board CEO Bill Even addressed those attending the 2019 Pork Industry Forum, highlighting a number of issues affecting pork producers today. One of those topics was pork exports, and Even said the NPB has certainly not been idle when it comes to market opportunities.
"Since the year 2000, exports have absorbed 63 percent of your growth from U.S. pork production," said Even. "Those extra 7.4 billion pounds of pork we produced, 63 percent of it went overseas and about a strong third stayed in the United States. That's why this export component is critically important."
Even shared that since 2014, the international marketing budget has increased by 30 percent, with now more than $10 million being spent in that space. He said the top seven export markets for U.S. pork include bright spots like South Korea and Australia where growth is occurring, as well as countries like Mexico and China where trade disputes are negatively affecting export numbers.
Listen to Even's full report here: National Pork Board CEO report