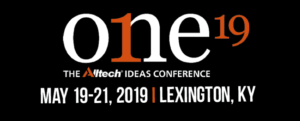 ONE: The Alltech Ideas Conference (#ONE19) has some big name keynote speakers but the biggest is Dr. Mark Lyons, President and CEO, Alltech. I spoke with Mark to get a preview of this year's conference. I've been attending this annual event since 2007 and it has continued to grow with an expectation of a record attendance this year according to him. I'm looking forward to seeing many friends from around the world that I've met at the annual event. BTW, Cindy will be with me for the first time this year.
Here is some information about what to expect at ONE this year.

ONE: The Alltech Ideas Conference (ONE19) returns May 19–21, 2019, in Lexington, Kentucky, to welcome everyday heroes united by the search for inspiration, motivation and ONE meaningful idea. ONE19 is a unique global conference that transcends culture and industry, presenting innovation-driven solutions for overcoming challenges in agriculture, business, health and wellness, brewing and distilling, and everyday life.
Keynote speakers who will anchor ONE's 35th annual exploration of transformative ideas include Bear Grylls and Chris Zook.
Alltech's flagship conference is attended annually by nearly 4,000 people from over 70 countries who gather to dream bigger and explore solutions to improve their businesses and the world around them. The conference experience extends beyond superior presentation content, as attendees are invited to embark on area tours throughout the Bluegrass State and network with peers from across the globe.
While world-class speakers will light up the plenary stage with universal themes of perseverance and achievement, subject- and species-specific breakout sessions with industry experts give attendees an opportunity to explore their particular fields, including aquaculture, beef, crop science, dairy, pig, poultry, equine, health and wellness, business, and brewing and distilling.
Listen to my interview with Mark here: Interview with Dr. Mark Lyons, Alltech