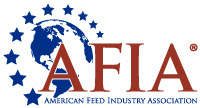 The American Feed Industry Association (AFIA) honored award winners and elected officers during its annual spring meeting in Orlanda, Fla.
The organization named T.J. Biggs, director of technical services and quality assurance at Global Animal Products, its Member of the Year. The Member of the Year Award is presented to an AFIA member who exhibits outstanding support in achieving the organization's goals and objectives throughout the year.
Bill Barr, president of Bill Barr & Company, accepted the 2019 Distinguished Service Award. The Distinguished Service Award is AFIA's highest honor and is typically given to the elite members of the U.S. animal food industry who have provided outstanding support to AFIA and the entire animal food industry throughout their careers.
Tim Belstra, chairman of Belstra Milling Co., is the AFIA new chairman. His one-year term is effective through the end of AFIA's fiscal year April 30, 2020. Scott Druker of Church & Dwight Company, Inc. is chair-elect of the organization and will succeed Belstra in May 2020.