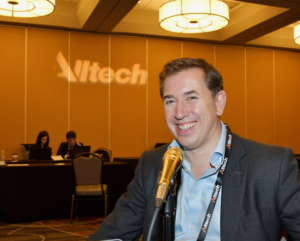 A company based in the United Kingdom is working to reduce the use of antibiotics when it comes to raising livestock.
"Folium's reason for being is around removing the need for antibiotics in animal rearing," said Edward Fuchs, co-founder of Folium Science, part of Alltech's Pearse Lyons Accelerator. "And it's because our industry is under pressure from the overuse of antibiotics over the last few decades. And this is driving bacterial resistance and could well be as big a problem as cancer in around 30 years time."
Fuchs said current alternatives in the marketplace are actually driving up costs for our farmers, not allowing the feed efficiencies that they might want, and also increasing mortality. The new technology would not only look at removing the need for antibiotics, but also assist with resetting antimicrobial resistance. He said the technology is applicable across all species and also on plants. Currently the company is focusing its efforts in the poultry industry, and hopes to bring the technology to market sometime in 2020.
Listen to Chuck's interview with Ed here: Interview with Edward Fuchs, Folium Science