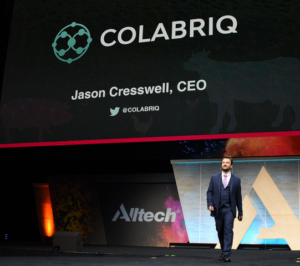 A tech company based in the United Kingdom is moving into the food and agriculture sector to help improve profit and efficiency in supply chains.
"What Colabriq is doing is helping businesses in food and agriculture make better decisions by having the right information at the right time," said Jason Cresswell, CEO. "So the key problem every business faces is all that data is spread across lots of different computer systems and a ton of spreadsheets. What we do is we connect all of that data together and connect that data across the end to end supply chain, allowing businesses in the supply chain to coordinate the supply chain from end to end."
Colabriq has partnered with retailers and processors to form the Poultry Data Alliance, and soon hopes to build out the same sort of collaboration in other areas like dairy and beef. Cresswell said this type of information can help retailers to have a clearer view of what product will be available, and it can also help to eliminate waste that currently exists within the supply chain.
Colabriq is a current participant in the Alltech Pearse Lyons Accelerator.
Listen to Chuck's interview with Jason here: Interview with Jason Cresswell, Colabriq