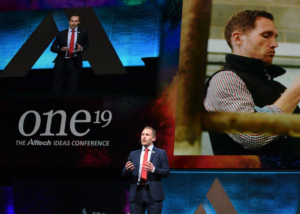 Intouchgo came to the market six years ago, pioneering innovations in feed management and dairy herd production.
But the Irish company had begun to see inconsistencies in the data they had built up that were costing farmers production and money. As a result, they've made significant changes that make the company more relevant to farmers and add real value throughout the supply chain.
"We are taking milk production data directly in real time, coming from the milking parlor each morning at 9 a.m. We're getting that data coming in, we're matching that with our feed ingredient database and we are triggering alerts. So we have built in algorithms and some smart formulas that if milk production or butterfat or protein drops by a certain percentage, we will trigger an automatic alert and that will be sent directly to the farmer's smartphone. So, it's a decision making tool in real time and driving real value," said Martin Minchin, Intouch Marketing Manager, Alltech.
Minchin said a farmer can now look at a notification to see what it means, immediately accept the recommended ration and send that command directly to the mixer wagon for feeding.
"We've taken a process, in that case, from 14 days all the way down to five minutes," explained Minchin, who appreciated the opportunity to be part of Alltech's Pearse Lyons Accelerator program.
The company hopes to remove costly inconsistencies from milk production using real time data that can drive decisions on the farm.
Listen to Chuck's interview with Martin here: Interview with Martin Minchin, Intouchgo