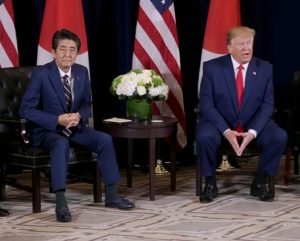 Representatives for farmer and rancher organizations were present for a meeting with President Donald Trump and Japanese Prime Minister Abe in New York City as the two signed a trade deal Wednesday worth billions for U.S. agricultural producers.
Under the market access agreement, Japan will open the market to approximately $7 billion in American agricultural exports, eliminating or significantly lowering tariffs for U.S. beef, pork, poultry, wheat, cheese, wine, certain nuts and berries, cherries, ethanol, and more. "So it's a tremendous trade deal. It's a very big trade deal," said President Trump.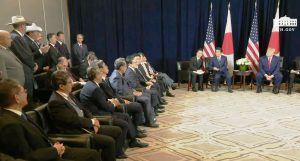 Agricultural group leaders in attendance were invited by President Trump to make comments. While National Cattlemen's Beef Association (NCBA) President Jennifer Houston was busy testifying about the current state of the cattle industry before the Senate Agriculture Committee, President-Elect Marty Smith of Florida was speaking to the president on behalf of beef producers. "We asked for a level playing field, and you delivered that to us, and we thank you for that," said Smith. "And it's a great day too for, we think, for the Japanese people. This will enable them to buy more American beef, more American agricultural products."
American Farm Bureau Federation President Zippy Duvall said that farmers and ranchers are thankful for the new agreement "and what we need in the future is more agreements like this all around the world."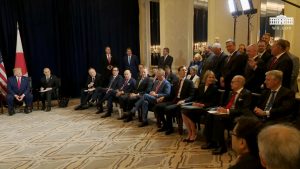 National Pork Producers Council (NPPC) President David Herring of North Carolina, said the agreement provides new opportunities for the 60,000 pork producers across the country. "We've seen market share declines in Japan, historically our largest value export market, since the start of the year when international competitors gained more favorable access through new trade agreements. Once implemented, the agreement signed today puts U.S. pork back on a level playing field with our competitors in Japan."
The Japanese Parliament is expected to approve the agreement later this fall and it could be implemented as early as Jan. 1, 2020.
Listen to these comments and those from others present at the meeting below – watch it on the White House YouTube channel.
President Trump, farmers and ranchers on Japan deal