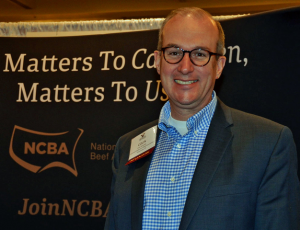 This year's National Association of Farm Broadcasting Convention in Kansas City brought an opportunity to talk with Colin Woodall since his appointment as CEO of the National Cattlemen's Beef Association (NCBA). Woodall recognized challenges that continue to grow within the industry and the need to protect members and their investment into NCBA.
"The message to the producers is, just hang on. We're doing a lot right now on the trade front that we think will have some positive impacts on cattle markets," said Woodall. "That includes the Japanese trade agreement that we expect to go into place on the first on January. That's also the U.S country specific quota into the EU. We also expect to have the USMCA ratified. And as long as we can provide some certainty in international markets, I think that will also provide a lot of certainty in the domestic market, too."
Woodall said in addition to trade, the association will focus on ensuring there is honesty in marketing when it comes to products like fake meat. NCBA is working with the Federal Trade Commission to challenge incorrect marketing claims about the environmental impact of the cattle industry on natural resources. The association is also working on legislation to restrict the ability of companies to use the term "beef" for these types of products.
Listen to the interview with Colin here: NAFB19 Colin Woodall, National Cattlemen's Beef Association (4:18)