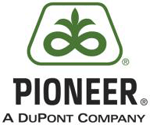 As you know, Pioneer Hi-Bred has been a supporter of World Dairy Diary with their Forage Forum podcast. They just announced that they've got 3 new alfalfa products for the 2007 planting season.

Pioneer® brand varieties 54R02, 53H92 and 54V09 offer growers specific traits and resistance packages for various growing environments and conditions. 54R02 is a high-yielding, four-dormant variety with good forage quality, and it displays strong winter hardiness and an excellent disease-resistance package.
54R02 includes Roundup Ready® technology and can be used in most alfalfa-growing regions.
53H92, a high-yielding, three-dormant variety, shows exceptional resistance to potato leafhoppers and also has good forage quality. The disease-resistance package for this variety adapts well to areas with annual potato leafhopper infestations from eastern Nebraska and South Dakota to the eastern United States and Canada.

54V09, another high-yielding, four-dormant variety, demonstrates excellent nematode resistance for most western environments. It performs well in winter conditions and has an outstanding disease-resistance package.