A simple, inexpensive instrument that is routinely used to measure liquids like wine or orange juice to determine the amount of soluble solids in solution can also be used to quickly measure the quality of colostrum for newborn calves.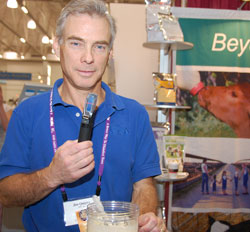 Research published in the August Journal of Dairy Science showed how Brix refractometer instruments can be used effectively for the measurement of Ig concentration of colostrum and at World Dairy Expo, APC, Inc. was giving away four of the refractometers every day during the trade show. The instruments are available on-line for about $50-60.
I talked with Jim Quigley, director of calf operations for APC, about how the refractometer can help producers better manage their colostrum program. "If the producer mismanages the first 24 hours of a calf's life, it can really affect the calf for the rest of it's life and impair its ability to milk when she grows up," Jim told me.
The refractometer is easy to use and gives a reading within seconds of the quality of colostrum. "This brix refractometer can be a pretty good tool to help the producer, very quickly at cow-side, to identify the colostrum that's good quality from the colostrum that's poor quality," he explained. "They're very simple and easy to use and quite handy on the farm, since with feeding colostrum, time is of the essence." APC offers products that are used to replace or supplement colostrum if a producer finds that necessary.
Listen to my interview with Jim here. Jim Quigley Interview
Watch Jim demonstrate how simple the brix refractometer is to use here.
2010 World Dairy Expo Photo Album