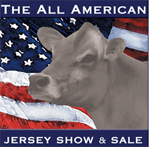 At the All American Jersey Show & Sale that's coming up in Louisville, KY you can show your support for the AJCA Scholarship Fund by bidding on a custom print of "Wide Load Ahead" painting that was unveiled at World Dairy Expo.

Two 16" x 20" archival prints on canvas of the original oil painting have been made by artist Denise Rich of El Cajon, Calif.. She has personally hand-embellished these prints, turning each into a one-of-a-kind artwork. The professionally framed prints will be the first lots to be auctioned at the 54th All American Jersey Sale, starting at 4:30 p.m. at the Kentucky Fair and Exposition Center in Louisville, Ky on November 5 in Louisville, Ky.

Proceeds are designated for the AJCA Scholarship Funds, a 501(c)(3) permanent trust that supports scholarship and internship opportunities for Junior Members of the American Jersey Cattle Association.
"Wide Load Ahead" was an immediate hit with viewers after its unveiling October 3 during World Dairy Expo. Its centerpiece is a mature Jersey cow, alertly standing her ground and flanked at a distance by two of her inquisitive herdmates. The trio is framed against the background of a beautiful valley surrounded by classic rolling hills with oak trees.
Limited-edition lithograph and giclée prints will be available for purchase starting November 5. In addition to a series of 225 signed and numbered prints, an Artist Proof series of 25 prints has been issued. The series of giclée canvas prints, also signed and numbered by Denise Rich, is limited to 75. All proceeds go to the AJCA Scholarship Funds. The original oil painting will remain in the permanent art collection at the AJCA headquarters in Reynoldsburg, Ohio.
For information about the November 5 auction of the artist-embellished giclées, contact Neal Smith, AJCA Executive Secretary at 209/988-0601, or Cherie L. Bayer, AJCA Director of Development at 614/282-2404. Absentee bidders may place bids with the staff of Jersey Marketing Service working the 54th All American Jersey Sale. See http://jms.usjersey.com/AASale/Default.htm for contact information or call the JMS office at 614/861-3636, ext. 325.