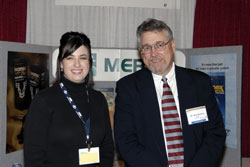 At the National Association of Farm Broadcasters convention going on in Kansas City, MO, companies like Merial exhibit. It's called Trade Talk and provides an opportunity to interview various people in the industry.
I interviewed Don Briskey, DVM, Manager, Veterinary Professional Services for Merial (right). He was in the booth with Wendy Mayo from their agency, Bader-Rutter.
Don had several things to talk about for dairy producers including their product, CORID, which is now available as an in-feed formulation, making prevention and treatment of coccidiosis easier. Don also talks about strategic parasite control.
You can listen to my interview with Don here:

Don Briskey Interview (5 min MP3)