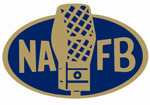 Over at AgWired, Chuck described "Trade Talking" at the National Association of Farm Broadcasting last week. I was there as well, and as it happened a fair number of my guests on the Buckeye Ag Radio Network were vets discussing their company's dairy herd health products. Here they are, for your listening pleasure:
From Novartis, Dr. Doug Sholz discussed the ViraShield products.

Novartis ViraShield Interview (4 minutes 25 seconds, mp3)
From Pfizer, Dr. Gary Neubauer talks about a number of issues, most notably the ExCede vaccination program.

Pfizer Dairy Products Interview (4 minutes 50 seconds, mp3)
Over at Intervet, Dr. Scott Nordstrom stresses quality assurance in injections and handling of dairy cattle.

Intervet BQA Interview (3 minutes 40 seconds, mp3)
Hope you find these discussions informative and entertaining. For more coverage and audio on demand from the speakers from the NAFB Convention, visit our website.