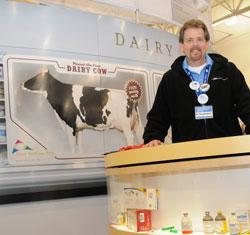 Dr. Gary Neubauer, Pfizer Animal Health, attended World Dairy Expo to meet dairy producers and he had a lot of them to meet with! I stopped to ask him about all the activity which included what looked like a lot of political campaign buttons. He says it's called their Industry Pflair program.
"What Pfizer is trying to do is have a concerted effort in the dairy industry to simply show our pride for the dairy industry, allow producers, veterinarians, industry people to come to the booth and they find lanyards, buttons . . . " Basically he says that producers can take and wear these items so that people
will stop them and ask about it. This provides them with an opportunity then to help educate people about the industry and dispel some of the myths out there. He says people need to realize that a dairy producer is one of the hardest workers you're going to find.
You can listen to my interview with Gary as part of our Milking Parlor Podcast: [audio:http://zimmcomm.biz/wdd/milking-parlor-42.mp3]
To subscribe to the Milking Parlor podcast, here are some instructions.
World Dairy Expo 2008 Photo Album
Sponsors of World Dairy Diary coverage of this year's World Dairy Expo include GEA Farm Technologies and BASF Plant Science.