2009 World Dairy Expo coverage sponsored by:





Providing education and information for dairy producers is the goal of the Professional Dairy Producers of Wisconsin (PDPW), which kept them busy at the 2009 World Dairy Expo last week.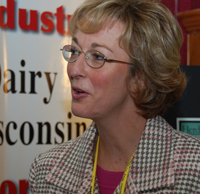 While Wisconsin is in the name of the organization, Executive Director Shelly Mayer says they actually have grown into a network of 1,600 members from eleven states who represent every type and size of dairy operation. "We have producers that are members from Pennsylvania, the Dakotas, California, Arizona – all over the country – because they seek the information that PDPW is providing," Shelly says.
The organization provides information about topics that are vital and timely for the dairy industry, including animal welfare, environmental and labor issues. They also offer an annual Managers Academy, which will be held January 19-21 in Seattle, that helps producers focus on the business side of their operation.
In addition, PDPW sponsors several workshops, training seminars and tours throughout the year on various topics. For example, coming up October 20-21 is the Dairy Calf & Heifer Tour which visits innovative operations around the state of Wisconsin. A couple of sponsors for that tour are also sponsors of our World Dairy Expo coverage – Charleston Orwig and Novus International.
Listen to my interview with Shelly here: